Product Description
Snow and Ice Melter A Superior Product For Concrete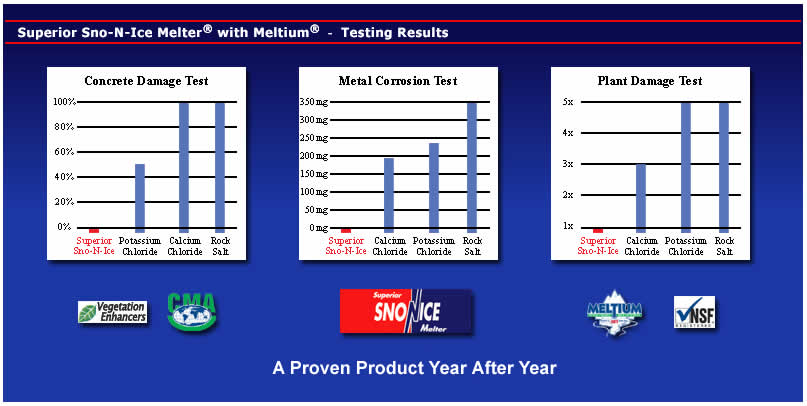 $45.00 Flat Fee Shipping per unit.
$10.00 charge for local deliveries is required
Small Snow and Ice Melt Car Emergency Containers Available - Great for road emergencies, Great for instant car or walking traction on icy conditions.
Why use Superior Snow and Ice Melter (Sno-N-Ice Melter) With Meltium CMA
Patented Synergistic Formula

Effective to -20 F/-29 C

Safer for Concrete & Metal

Creates Instant Traction

Vegetation Enhancer & Protectors

Colored for Controlled Application

Contains Anti-Caking Agents

Non-Toxic Safer Around Children and Pets

NSF Authorized Food Service Safe

EPA approved
Superior Snow and Ice melter (Sno-N-Ice Melter) with Meltium and CMA (Information about CMA) provides a patented synergistic inhibitor formula that prevents concrete spalling and corrosion of the rebar. Its manufactured 9-ingredient formula provides maximum protection for concrete and other costly assets while helping to prevent slip and fall accidents. The granular composition builds an immediate surface traction for pedestrian and vehicle traffic. It is safe for vegetation and virtually non-corrosive to metals and special alloys. This extra protection is effective on concrete, metal doors, railings, door tracks and dock plates, shopping carts, and electrical wires. SnoNIce does not create heat but forms a brine solution to melt ice producing a chemical film that binds to and hardens concrete to prevent pitting and flaking while preventing freeze-thaw-refreeze cycles. The long-lasting brine solution quickly forms, requiring less frequent applications of SnoNIce, saving you money in product and labor. It has no shelf life and won't clump or harden making it easy for you to apply during the winter months. It does not leave an oily residue and will not damage leather flooring or carpets. Sno N Ice Melter with Meltium has been authorized by the NSF for use in food service applications and is nontoxic and safe for use around children and pets. It works effectively down to -20 F/- 29 C and melts at 120 F/129 C without causing the damaging effects to your assets like Calcium Chloride and Magnesium Chloride.
HOME DELIVERY $10.00 to Pre-Paid orders in the Kansas City Metro Area (with in 45 miles of our location) on Wednesdays (Weather Permitting) This excludes pallet deliveries - In selecting shipping method - Choose IN STORE PICKUP.
Custom Field
Product Reviews
The Snow Melt worked great. We haven't had any ice since we received. I should have purchased in November so we could go all winter with out snow and ice.

This stuff works! Put it on before during or after.

So happy to have this product BEFORE our snow arrived!!

I WAS IN NEED OF CALLING YOU THE DAY I ORDERED ON-LINE. I HAVE MULTIPLE SCLEROSIS AND WAS HAVING A HORRIBLE DAY WITH MY EYES, HANDS, EVERYTHING. THIS OF COURSE MADE SHOPPING ON-LINE HARDER THAN USUAL. I JUST COULD NOT SEE THAT I FAILED TO PUT IN THE 3 DIGIT CVS # FOR THE CREDIT CARD. I CALLED AND...………………………..I WAS GREETED AND HELPED BY THE WARMEST, KINDEST, MOST HELPFUL PERSON AT YOUR BUSINESS. THE BEST PART IS SHE DID NOT RUSH ME AND SHE HELPED ME TILL THE ORDER # SHOWED ON MY SCREEN. THE KIND SERVICE WAS AND IS SO GREATLY APPRECIATED. I REALLY NEEDED THAT SALT FOR MY RAMP. …………….I JUST HAD TO LET YOU KNOW.

Outstanding product, is is fast acting at low temperatures and saves you concrete. A must use every winter.

it works no better than normal ice melt

I bought this product based on the video that was shown. I had snow and ice and I tried equal amounts of SUPERIOR SNOW MELTER and ice melt that I had from Home Depot and honestly saw no difference. Both products performed the same at 15 degrees but I had to pay shipping for this product. Response from SealGreen: Thank you for your review. Almost any Ice melter will work at 15 degrees. The difference between ice melters is apparent when the temperatures drop below 15 degrees. Superior Snow N Ice Melter does not refreeze until below minus 20 degrees. Most ice melters stop working at 10 degrees; allowing the water that is melted to freeze. If it freezes inside the concrete, it breaks down the concrete because of the expansion and contraction of the freeze/ thaw effect. Superior Snow N Ice Melter does not refreeze thus preventing ice buildup. Another great feature of Superior Snow N Ice Melter is that it provides instant traction (and is pink so you can see where you put it and you use less). It also does not harm your landscaping and is safe to use around your pets and small children. Due to the safety conditions that SealGreen Superior Sno N Ice Melter provides the US Airforce and many other public and residential places use our products.

Your snow melt is awesome!! I am sending my lawn & landscape guy to you as he needs a better product for winter drive treatment. Its a great product.

Its great . I've used this snow melting product and it says what it does. With a bit of elbow grease my sidewalk came beautifully. I used a regular scrapper and the snow came right of the ground. My neighbors thought I used a ton of salt. Now they want to know where I purchased this incredible product.

Snow melt deliver just before the storm

We sincerely appreciated the delivery on a Sunday Connie and Mike! Sounds like another big storm tomorrow. Be safe!